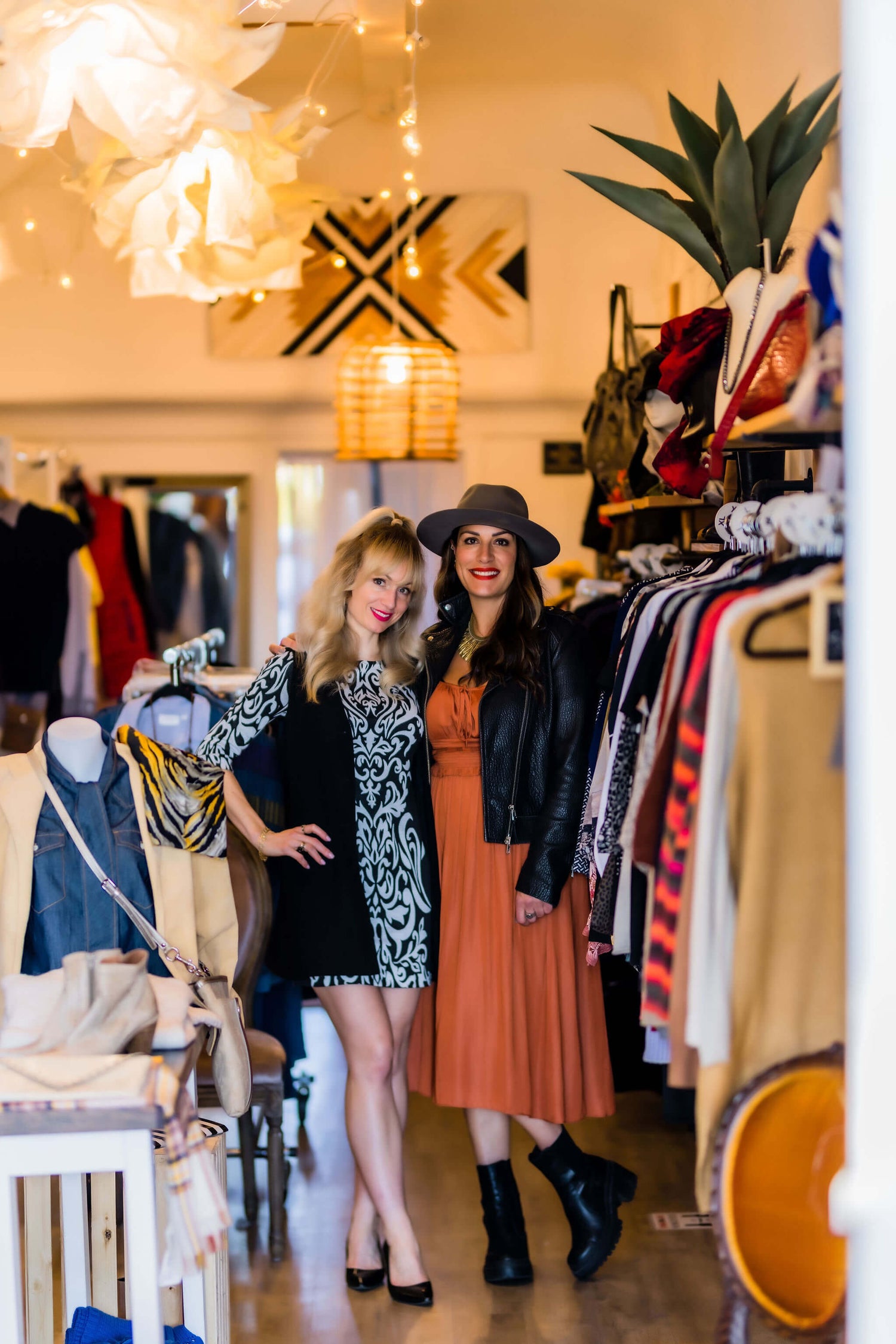 Our Story
Have you ever had a friend from school that you make glorious plans with to one day have a business together??? Well, these two friends, Amy Caine and Roby Clement, of over 28 years got to realize that dream in the spring of 2021.
As best friends since Grade 8 both have maintained a bond to each other. Even when their lives zigzagged in different directions due to marriage, travel, and children. With a shared passion for fashion Roby and Amy came together after having similar personal changes in their life and deciding to open Goldstone Boutique in May 2021.
You may say that the idea to open a consignment store started with Amy, who had two teenage children that also shared an interest in fashion. After spending there teenage years going out of town shopping at consignment stores Amy got an idea to open a boutique in Duncan, British Columbia. her understanding for getting high-quality products at a lower price, while decreasing the negative impacts on the environment, inspired the idea to start a consignment store. It was a MUST!
Once the seed was planted, Amy was able to get Roby on board and gather support from family and friends. The two set great goals and with a directional shift it all came together! They were able to make it all happen with determination. Roby and Amy then set out to find a location for Goldstone. They secured a space above a hair salon, Freestyle Salon, located in Cobble Hill with their long time friend who believed in their idea.
They were open for only a month when the phone call came in from mentor Deborah Walters, former owner of Twice As Nice in Oak Bay, Victoria. From that moment another business idea emerged! Deborah and Amy met in the fall of 2020 and she was an instrumental mentor in the building of Goldstone. Amy and Roby were able to ask her all she knew about the business. It was on this day that Amy took a call from Deborah wanting to sell her boutique in Estevan Village, Oak Bay. The girls decided this was meant to be and more dreams were realized as they became owners of not one, but two stores!
With big shoes to fill and a list of loyal customers to please we have love continuing on the legacy of Twice As Nice and creating something new with Goldstone.
With Love,
Amy & Roby

Twice as Nice's History
When Emeline bought Twice As Nice in 2001 it was a discount secondhand clothing store. Emeline's vision was to transform this little store into a high-quality consignment clothing boutique for ladies.
Curiosity grew on Estevan Avenue as Emeline redesigned the interior of the store behind paper covered windows. Her natural talent for window displays and tasteful presentation of the unique and quality clothing soon attracted many loyal customers to the store. It was an immediate success and has become a consignment store icon for more than 20 years.

A Message From Twice's Previous Owner
"My adventure with Twice As Nice began in Oct 2016. My interest in fashion, interior design and meeting new people was the driving force behind my purchase of Twice As Nice. Over five years with Twice as Nice all my expectations and more where met with great success. I had set myself a five year timeline with the hope I could pass the business onto someone who would take the reins and create a vision of their own. Amy and Roby have done just THAT!
Amy and Roby may your adventures at Twice As Nice continue to be as fulfilling and wonderful as it was for me."
Best, Deborah
Products We Carry
To complement our consignment goods we also carry a variety of local proucts - Jewelry, candles body scrubs, ceramics, etc. These make for great gifts for someone you love, or a little treat for yourself! Come visit us to see what's in-stock!